Sport BTEC

PE is a large and experienced department of teachers with a wide variety of specialisms in different sports. Sport has an excellent reputation at Samuel Whitbread and in the wider community as a result, and students experience expert teaching and learn the key skills of sport.


| Examination Board | Course Overview Videos | Curriculum Sequencing |
| --- | --- | --- |
| | | |
| | | |
| | | |

Marking & Feedback

Academic Enrichment & Extension Opportunities
Coaching:
Students at Samuel Whitbread Academy have the opportunity to take part in coaching and support sports days and events. Coaching takes place in lower schools - pupils have the opportunities to support coaching in lower schools for sports days and events ran at SWA by the Redborne sports partnership. In events ran by SWA the pupils have been brilliant in helping support events with coaching and refereeing, and this is a tradition we continue to value.
Sixth Form Academy Courses:
Pupils have the opportunity to participate in the football, rugby and netball courses ran by the PE department alongside their studies. The majority of these pupils come from BTEC sport. Pupils have the opportunity to represent the school at a number of other sports besides the sports courses including basketball, athletics and hockey.
Future Options & Career Opportunities
A BTEC Diploma prepares you for employment in Sport and provides a good grounding to go on to a degree level qualification.
Work within the Sports Industry, including Sport Development Officer, Personal Fitness Trainer.
Teaching or coaching of all ages.
Careers that rely on good social and communication skills e.g. social work, caring.
Professions, advertising, public relations and even the police or the armed forces.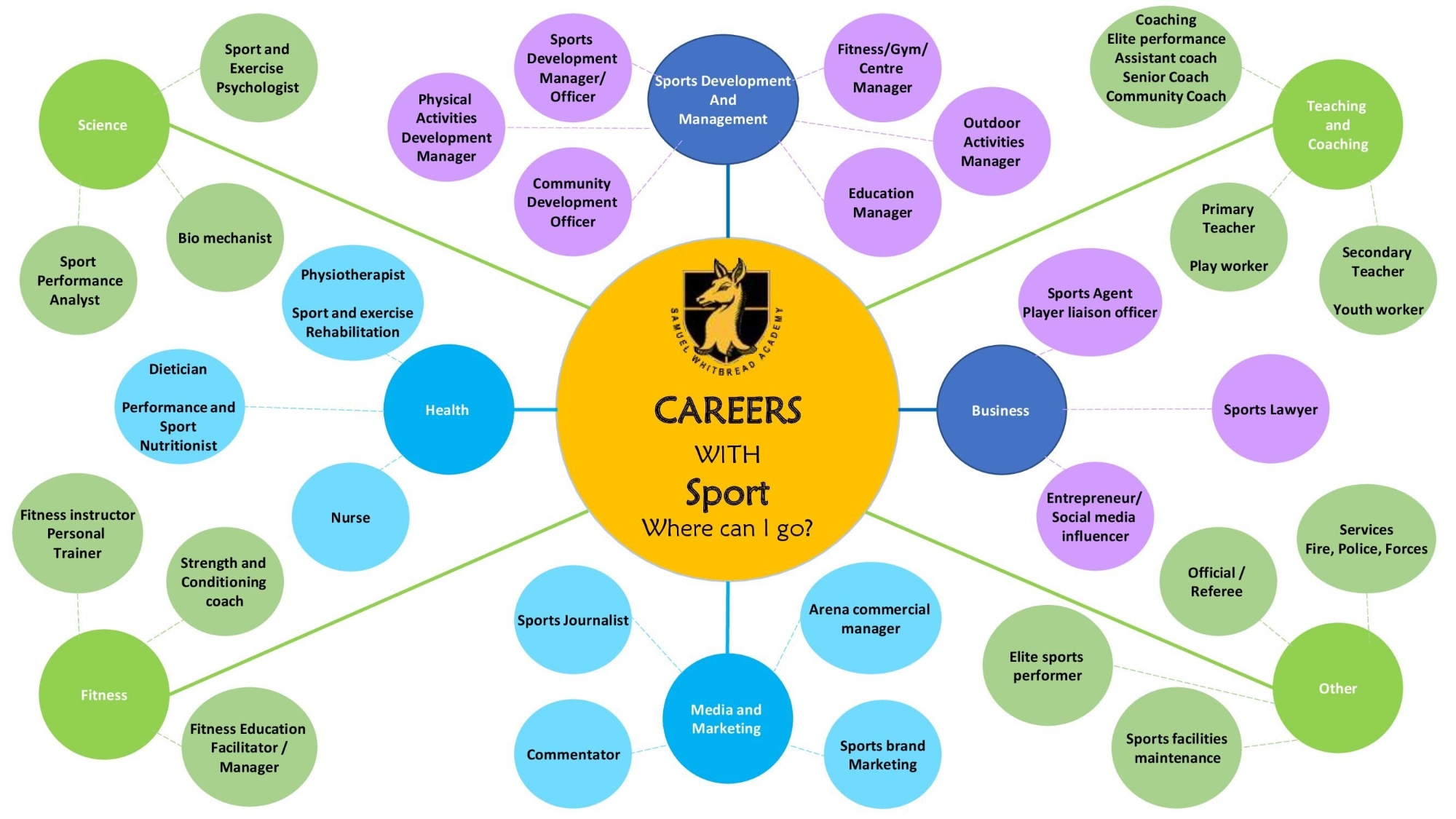 Revision Materials
The best source of revision resources is through your own lesson notes and use of the A Level Learning Platform for BTEC PE. In addition to these, the following can be accessed:
Links to External Resources
Pearson Approved Workbooks & Revision Guides
Single BTEC Sport - Revise BTEC National Sport Units 1 and 2 Revision Workbook and Revise BTEC National Sport Units 1 and 2 Revision Guide
Double BTEC Sport - Revise BTEC National Sport (Units 19 and 22) Revision Guide (Only for Unit 22)
Triple BTEC Sport - Revise BTEC National Sport (Units 19 and 22) Revision Guide