Geography A Level


The Geography department at A Level is an experienced team of 5 knowledgable teachers, with specialisms in both Human and Physical Geography. The A Level course is split into these two specialisms, with students benefiting from expert teaching from teachers in each field.


| Examination Board | Course Overview Videos | Curriculum Sequencing |
| --- | --- | --- |
| | | |
| | | |
| | | |
Marking & Feedback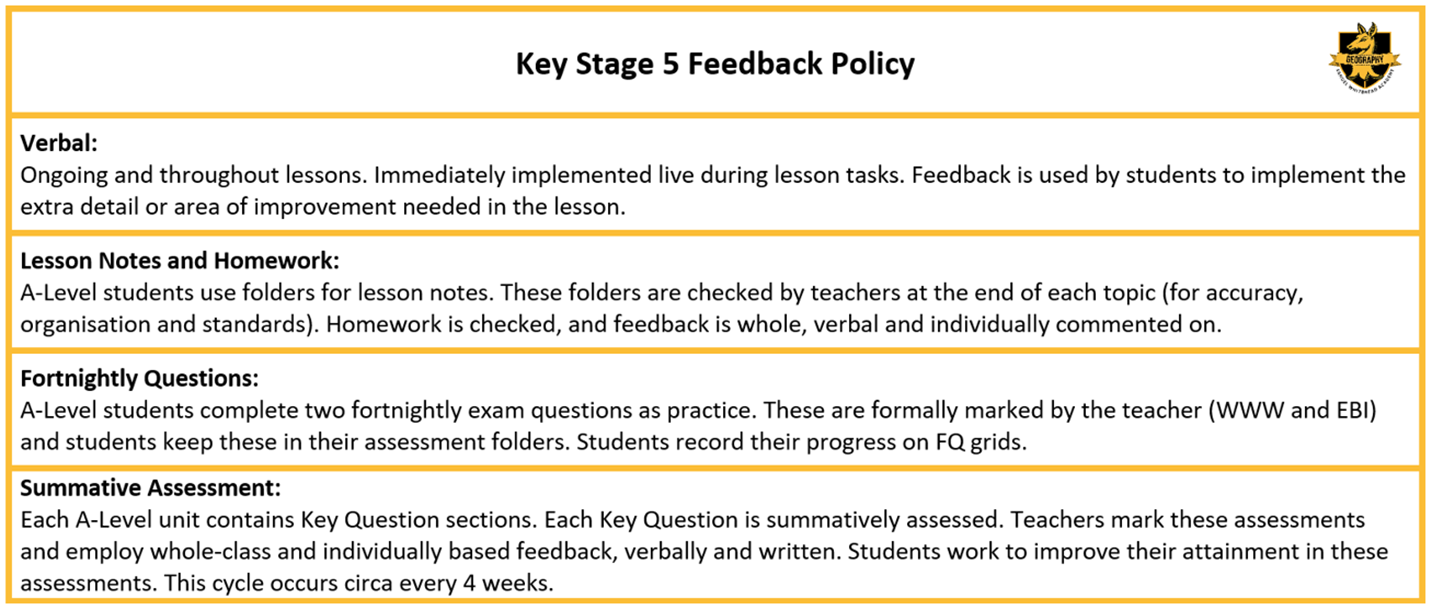 Academic Enrichment & Extension Opportunities
Geographical Fieldwork:
Sixth Form students at Samuel Whitbread Academy are open to fantastic fieldwork opportunities to bring Geography to life. Fieldwork is an essential part of developing geographical skills. As part of their Non-Examined Assessment (NEA), worth a total of 20% of the A Level course, students will attend a compulsory 5-day field trip to Dorset, on the south coast of the UK. This is a fantastic enriching opportunity to practice fieldwork techniques, such as perception questionnaires, carbon measurements, footfall surveys comparisons, quality of life variations, crime surveys, woodland diversity surveys, and so much more. Sixth form students also get an additional one-day field trip more local to Samuel Whitbread Academy, which is a trip to London Docklands to assess the differences in the diversity of it compared to Brick Lane. Students always find these field trips very useful in their confidence levels during the completion of their NEA.
Lecture Opportunities:
Students are regularly invited to attend internal and external venue lectures, both physically and virtually. These lectures aim to broaden the minds of students and give them a taster of some of the wider topics that can eb studied in geography. The lectures are provided by the Geographical Association, the Royal Geographical Society, The Society of Samuel Whitbread Academy, and many more fantastic institutions.
TED Talks:
Built into the curriculum focusing on key topics for each unit. These are watched, notes made to key questions, leading into an entire lesson of discussion and questioning based on the students' findings from the TED talks. There are on average, three TED talks per unit of study.
Geography Sixth Form Learning Platform:
Here students are encouraged, reminded, and required to read and make notes from the following areas of wider academic research: Foreign Affairs Magazine articles, In the News articles, Inside the Foreign Office Documentaries, Micro Lectures from the Royal Geographical Society, Oxford Podcast Lectures, Royal Holloway University Lectures. This goes alongside the wider reading lists that are supplied at the start of the course.
Royal Geographical Society Competitions:
Run once a year, students are encouraged to enter for the essay competition. The essay title and focus vary every year.
Fortnightly Exam Questions:
Students practice application of knowledge and skills to a different examination question, outside timetabled lessons, every fortnight. Students are required to use their class notes, wider reading, and research to answer the questions that are then marked with. MRI opportunities are then used in lesson time for students go over their answers with verbal feedback.
Future Options & Career Opportunities
Geography is very much recognised as a subject of today and the future. As the need for more sustainable development increases, Geographers are very much in need, whether it is in urban planning, flood management, or climate change.
Geography is offered at all the top universities, including Oxbridge. As the only subject that transverses both the sciences and the arts, Geographers develop a good all-round skills base which enables them to follow numerous careers. At Samuel Whitbread Academy, we have seen many students progress to diverse careers, including: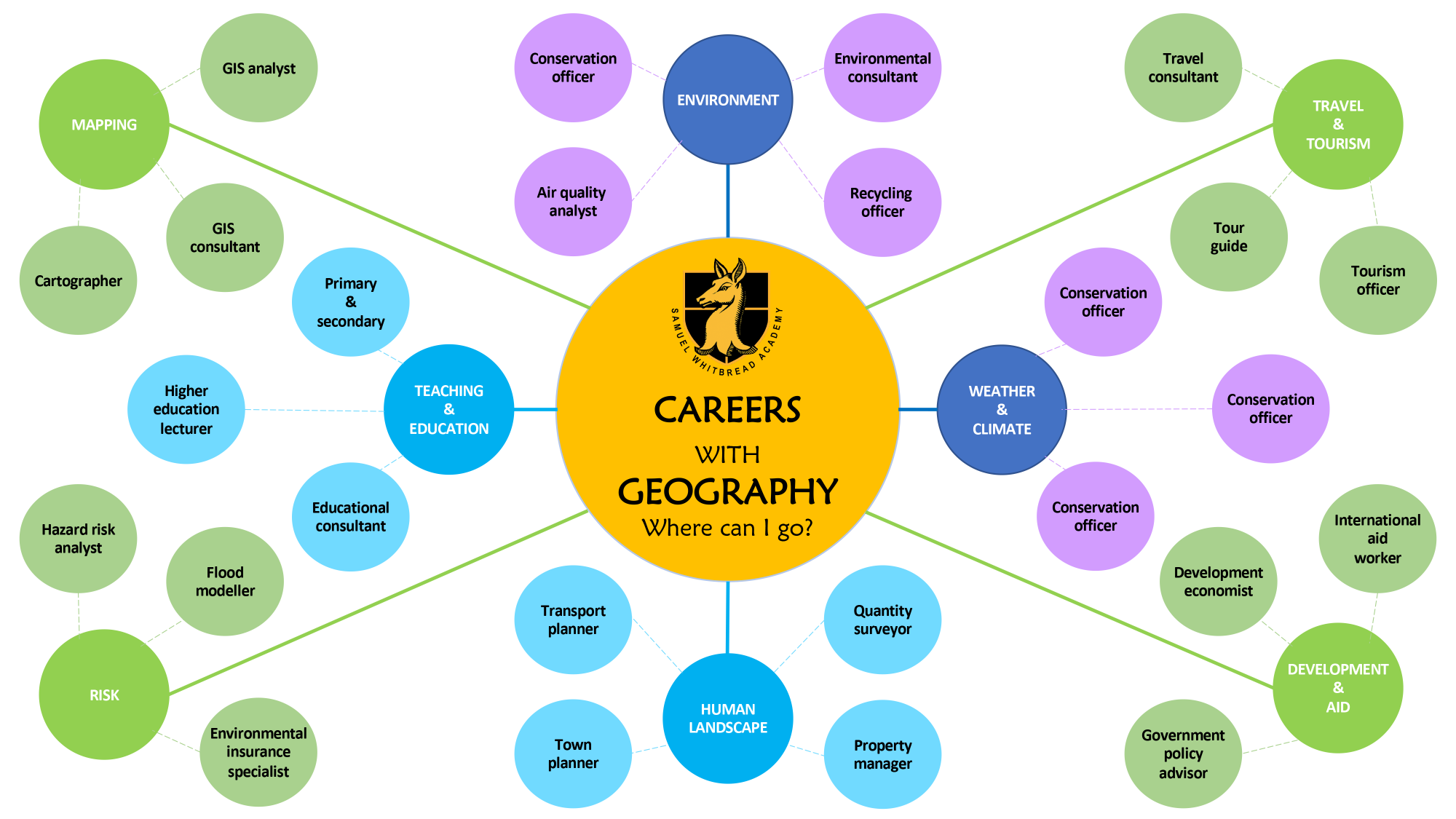 Revision Materials
The best source of revision resources is through your own lesson notes and use of the A Level Learning Platform for Geography. In addition to these, the following can be accessed:
Links to External Resources