Textiles A Level

The Textiles department is a dedicated team who are popular at A Level. It is a small teaching team who aim to convey their love and passion for the textiles industry.


| Examination Board | Course Overview Videos | Curriculum Sequencing |
| --- | --- | --- |
| | | |
| | | |
| | | |
Marking & Feedback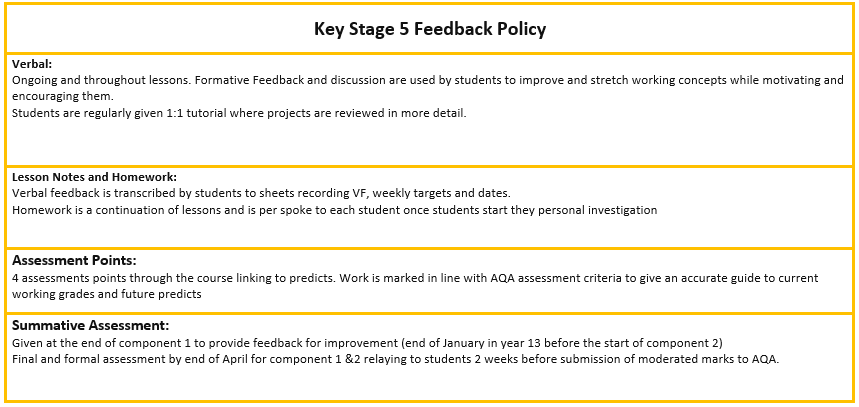 Academic Enrichment & Extension Opportunities
Students visit a range of galleries, museums and shows for contextual studies as well as an extensive reading and video clips to support their wider learning. For students specialising in Fashion trips to clothing and fabric shops are recommended and subscriptions to fashion magazines make a useful gift. Students are encouraged to visit the degree shows for all the major London Art Schools UCA.
Below is a list of audio, reading and other resources of use for this course:
The Secret life of colours By Kassia St Clair Published by John Murray Press ISBN: 9781473630833 (available on Audible)
The Golden Thread By Kassia St Clair Published John Murray Press ISBN: 9781473659056 (available on Audible)
5000 Years of Textiles By J. Harris Published by British Museum Press, ISBN 978-0714150895
World Textiles By M. Schoeser Published by Thames and Hudson, ISBN 978-0500203699
Basics Fashion Design 01 Research and Design By S. Seivewright Published by Ava, ISBN 978-2940411702
Basics Fashion Design 02 Textiles and Fashion By J. Udale Published by Ava, ISBN 978-2940373642
The Dressmaker Australian comedy-drama film co-written and directed by Jocelyn Moorhouse, based on the 2000 novel of the same name by Rosalie Ham.
Future Options & Career Opportunities
Textiles are a subject that affects every aspect of our lives and as a result there are a wide range of employment opportunities. The list is not comprehensive showing only a small range of the possibilities.
As an Art subject, Textile Design is accepted on a range of degree courses from Fine Art, Graphic Communication, Ceramics, Photography, Fashion, Fine Art Sculpture, Fashion, Textiles, Theatre Design and Interior Design. However At Samuel Whitbread we understand that university is not for everyone, an A Level in Textile Design can equip students to apply for internships where they can learn on the job or boost student's confidence to start their own independent career.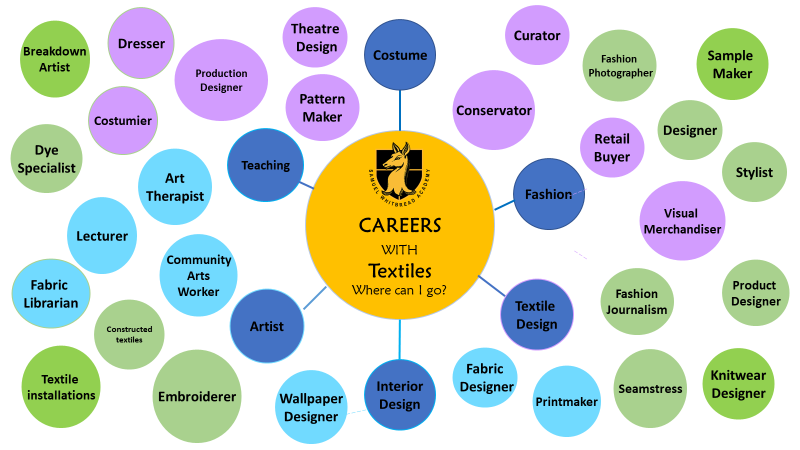 Revision Materials
As a coursework-based subject there are no revision materials needed, students build on previous work and continual formative feedback to develop and improve.