Sixth Form
The Samuel Whitbread Sixth Form ethos can best be summarised in four words: Believe – Achieve – Succeed - Exceed. In the Sixth Form at Samuel Whitbread Academy we strive to develop healthy, resilient and independent learners, who read confidently for both learning and pleasure, and who participate in culturally enriching and diverse experiences.
Please click here to view the Sixth Form ethos document so you can view our overriding mission and how this links to the SWA core values.
Every student in our Sixth Form is encouraged to believe in their abilities and to achieve and succeed with a positive mental attitude. We believe that successful Sixth Form students aim for more than just good academic results, they strive to work effectively as part of a team, to lead, listen and to be creative. The success of all of our students both personally and socially is of vital importance to our Sixth Form team and we are very proud of our students' academic achievements.
As Head of Sixth Form, my aim is to ensure that every student leaves Samuel Whitbread with the best possible set of qualifications and range of skills to compete in the modern world, as well as the strength of character to thrive under pressure and the self- belief to be a leader. Along with my dedicated Sixth Form team, including tutors and Progress Leaders, we aim to support our students' dreams – whatever they may be! We believe passionately in the importance of a vibrant, dynamic learning environment and our highly qualified staff offer a wide range of enrichment opportunities which ensure students are individually challenged and stretched in academic study and beyond. Students in the Sixth Form need to feel comfortable to learn from their mistakes and should have no fear of failure. They need to have a respect for and a desire to push their learning boundaries, so they can challenge themselves and define their own set of values.
On the Sixth Form webpages you will get a flavour of what is on offer in the Sixth Form at Samuel Whitbread. If you would like to arrange a visit to see for yourself what life is like in the Sixth Form then please contact the Sixth Form admissions team on swa-sixthformadmissions@bestacademies.org.uk
We look forward to welcoming you.
Above video was created by our Y13 Students Ayesha, Tabby and Cailin.
Meet the Sixth Form Team
| | |
| --- | --- |
| Mr L Huckle | Associate Principal - Head of Sixth Form |
| Mrs S Hoad | Head of Year & Assistant Head of Sixth Form |
| Mr C Tonking | Head of Year & Assistant Head of Sixth Form |
| Miss L Collins | Sixth Form Administrator |
| Mrs C Bonham | Pastoral & Academic Support Officer |
| Mrs A Corbishley | Post 16 Aspirations Lead |
| Mrs R Jackman | Sixth Form Enrichment Coordinator |
Curriculum Overview
The sixth form curriculum at Samuel Whitbread Academy offers:
A Wide Range of Academic and Vocational Courses
A Supportive Environment
Expert Teaching and Guidance
Flexible Study Options
University Partnerships
Business Partnerships
Sixth Form Non-Negotiables
The Sixth Form non-negotiables are the most important elements of organisation to assist with progress that students and teachers need to implement from the start of Sixth Form. Please see below: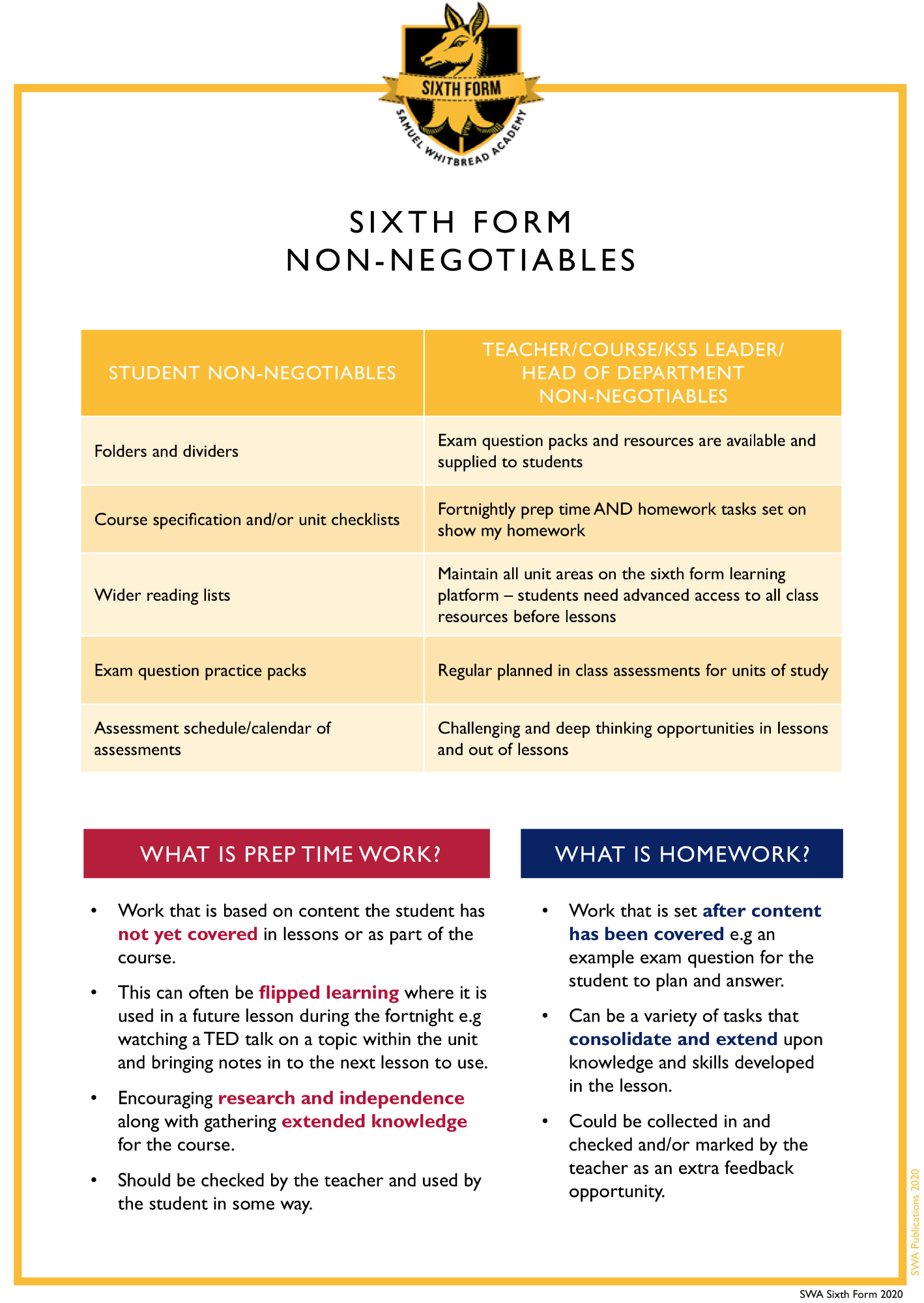 If you want to research what skills universities are looking for and wish to start your research and preparation, then visit this page. It'll provide you with information regarding possible, future pathways and preparatory, wider reading.