Professor Sir Geoffrey Palmer OBE Virtual Meeting
On Thursday 14th January 3:15 to 4:15pm SWA students from all year groups have the fantastic opportunity to participate in a virtual meeting with Professor Sir Geoffrey Palmer OBE, (the first black Scottish Professor).
He will be giving a 20 minute talk about his research into the impact of British slavery and the slave trade, including the role of Samuel Whitbread I and Samuel Whitbread II in abolishing it. His focus has been on the impact of slavery on Scotland and instigating a discussion on representing historical figures and monuments in a way that acknowledges their link to this part of our past. He has been involved in publicising this work in the media and on national and international news networks, particularly surrounding the statue of Henry Dundas, MP, who prevented the abolition of the slave trade for 15 years (1792-1807). It was Samuel Whitbread II that finally stopped him. Students will also be given the opportunity to ask him questions in the session and can get involved in future projects in this area if they are interested.
If you are interested in attending this virtual lecture, please register your interest by filling in this google form. If you would like more details, please email Julia Haynes.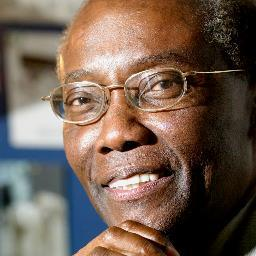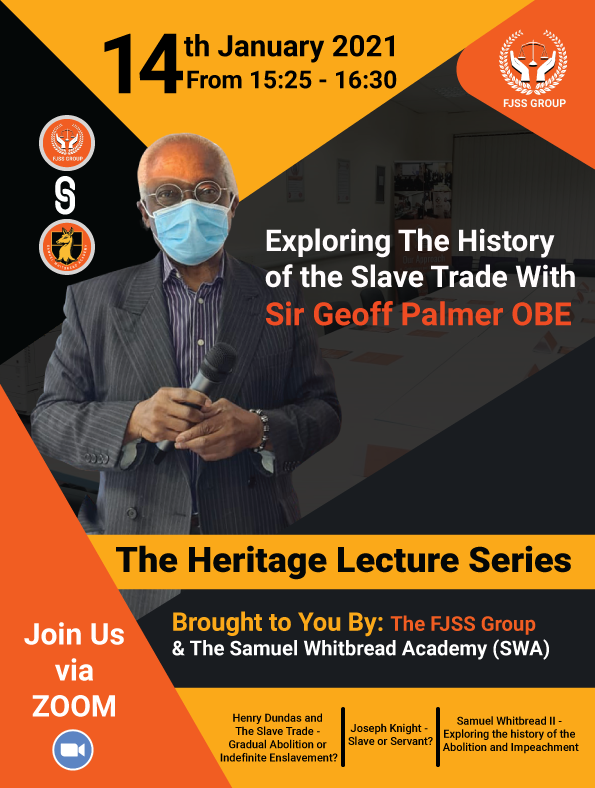 Programme of event:
Students will be in classrooms in relevant year bubble(s) with a member(s) of staff. Staff will be given the zoom code and will monitor and help in the Q and A and future projects section particularly.
Introduction by FJSS
Introduction from school and Diversity and Equality Group – Nick Martin and another member of the group
20 minute talk by Sir Geoffrey Palmer
Chance for students to ask questions
Ideas for future projects (these could link to historical study of Dundas, Knight, impeachment process linked to Samuel Whitbread, local links to the slave trade, a court case scenario, work on understanding racial diversity linked to an historical perspective)
Sir Geoffrey Palmer OBE – Biography:
Sir Geoff Palmer was born in Jamaica in 1940. His mother emigrated on HMT Empire Windrush in 1948 and Sir Geoff joined his mother In London in 1955. Initially he was assessed as educationally sub-normal, however, he left school in 1958 and found a job as a lab technician before gaining further qualifications which enabled him to go to the University of Leicester in 1961. He gained an MSc at the University of Nottingham. He also completed his PhD and began working with the Brewing Research Foundation in Surrey. At one point working for the Whitbread brewery. Sir Geoff was appointed a professor at Heriot-Watt in 1989. As well as his academic work Sir Geoff has been a prominent Human Rights activist and charity worker since the 1960's. Back then in the Times Educational Supplement Sir Geoff wrote a series of articles on ways to improve education and outcomes for children from ethnic minorities. Sir Geoff is the Honorary President of the Edinburgh & Lothians Regional Equality Council (ELREC) which was founded in 1972 to tackle discrimination and promote human rights and equality in the community.
More recently Sir Geoffrey has campaigned for a plaque to be erected at the foot of the 150 foot high Melville Monument in St Andrew Square. This was erected by friends of Henry Dundas, the first Viscount Melville who was a Tory politician and trusted lieutenant of William Pitt, the Prime Minister. Dundas delayed the abolition of the slave trade in the British Colonies by opposing Wilberforce's Bill in the House of Commons in 1792. Slavery in British Colonies was not abolished until 1807 and ownership of slaves remained legal in most of the British Empire until 1833.
Even after all these years several loyal establishment figures campaign in favour of Dundas and say he won the famous Scottish case Knight v Wedderburn [1778] Hailes 776; 15 January 1778 which led to the emancipation of Joseph Wright, a slave who had been brought back to Scotland by his master after he retired from being a plantation owner in the Caribbean. This was a civil case and while Dundas intervened as Lord Advocate, Scotland's Chief Law Officer he did not "win" the case. Sadly this myth is perpetuated by the publication of a novel Joseph Knight written by James Robertson and published by Harper Collins in 2003 when it won that year's Saltire Scottish Book of the Year Award. It is well written in places while "based on true events, it is first and foremost a work of fiction" with some of the facts altered by the author to make the story read better.
Sir Geoffrey Palmer, The Fair Justice System for Scotland Group and the Scottish Government:
Neither Sir Geoff nor FJSS Group want to see old statues and memorials of Britain's slave trade pulled down but would like them recognised in their proper context. Dundas's political interventions delayed the abolition of slavery during which time about 600,000 people were transported into slavery mainly from Africa to the Caribbean and the Southern States of the USA. Sir Geoff made little progress in his quest with the authorities in Edinburgh until the murder of George Floyd in Minneapolis in May this year and the subsequent Black Lives matter protests.
By July 2020 Edinburgh Council moved swiftly to amend the plaque at the foot of the Melville Memorial to read that Dundas was a "contentious figure, provoking controversies and rage to this day."
In November Sir Geoff was appointed Chair of the Edinburgh Slavery and Colonialism Legacy Review Group. The remit of the Group will cover any features within the Edinburgh City boundary which commemorate those with close links to slavery and colonialism including public statues, monuments and street of building names.
Silence Chihuri who initially contacted SWA, has known Sir Geoff for the last 15 years and after starting the Fairer Justice System for Scotland Group asked him to get involved, and he became Chair. Sir Geoffrey Palmer chaired the group which submitted the "Framework for Justice Reforms in Scotland" to the Scottish Government this July which pointed out the low level of representation on Scottish Boards and Quangos by the BAME community. The group aim to change that situation.
The links to Samuel Whitbread Academy:
The FJSS has written a book about the links to slavery and the slave trade in their local area of West Lothian – the book was sent to us as it is dedicated to the son of the Samuel Whitbread our school is named after. Sir Geoffrey was proud to dedicate the "The West Lothian Connection" book to Samuel Whitbread II both in his work to abolish slavery and impeach Dundas but also for his place in the brewing industry and the support Whitbreads gave him in furthering his career.
YouTube – News reporting on Sir Geoffrey Palmer: