Media BTEC

The Media department is a dedicated team who aim to develop students love of film, television, and online media at GCSE and enhance it at A Level. The Media BTEC course is one filled with opportunities to study the skills and knowledge needed for a future career in the media industry.

| Examination Board | Course Overview Videos | Curriculum Sequencing |
| --- | --- | --- |
| | | |
| | | |
| | | |
Marking & Feedback

Academic Enrichment & Extension Opportunities
Media Studies Production
Students work together to produce a short genre film. Students take turns at undertaking each role on set, ranging from director, to cinematographer, to actor. Students have to work as part of a team, whilst also focusing on both their verbal and written communication skills. Students also interact with the wider local community, as they are able to film on-location.
Extracurricular Filming Opportunities
Outside of lessons, students have the opportunity to undertake film projects on behalf of the school community, in addition to the wider BEST community. Students have filmed and edited school tours, nativities, promotional videos, end of year videos and much more.
Lecture Opportunities
Another aspect which helps enrich our students' lives professionally, is our curriculum links to industry. We are fortunate to be able to offer lectures from SWA Alumni who are now industry professionals, in order for first-hand knowledge on what it is like to work in pre-production, production and post-production. Our Alumni are linked to our internally assessed briefs, encouraging a more professional approach from our students.
Media Studies Sixth Form Learning Platform on Google Drive:
Here students are encouraged, reminded, and required to read and make notes from the following areas of wider academic research.
Bank of England Film Competition
As a department, we have won the Bank of England national Film competition twice, and have been highly commended on numerous occasions. This competition runs annually and is a great opportunity for students to develop their burgeoning creative skills.
Future Options & Career Opportunities
The Department of Digital, Culture, Media & Sport publishes employment estimates based on the Office for National Statistics surveys. These estimate there were 289,000 UK jobs in film, TV, radio and photography in creative industries in 2019. This number continues to grow exponentially, with Media and Communication roles becoming more readily available and accessible in most organisations.
Studying Media Studies does not just limit you to working with that industry, but enables you to access a plethora of careers such as: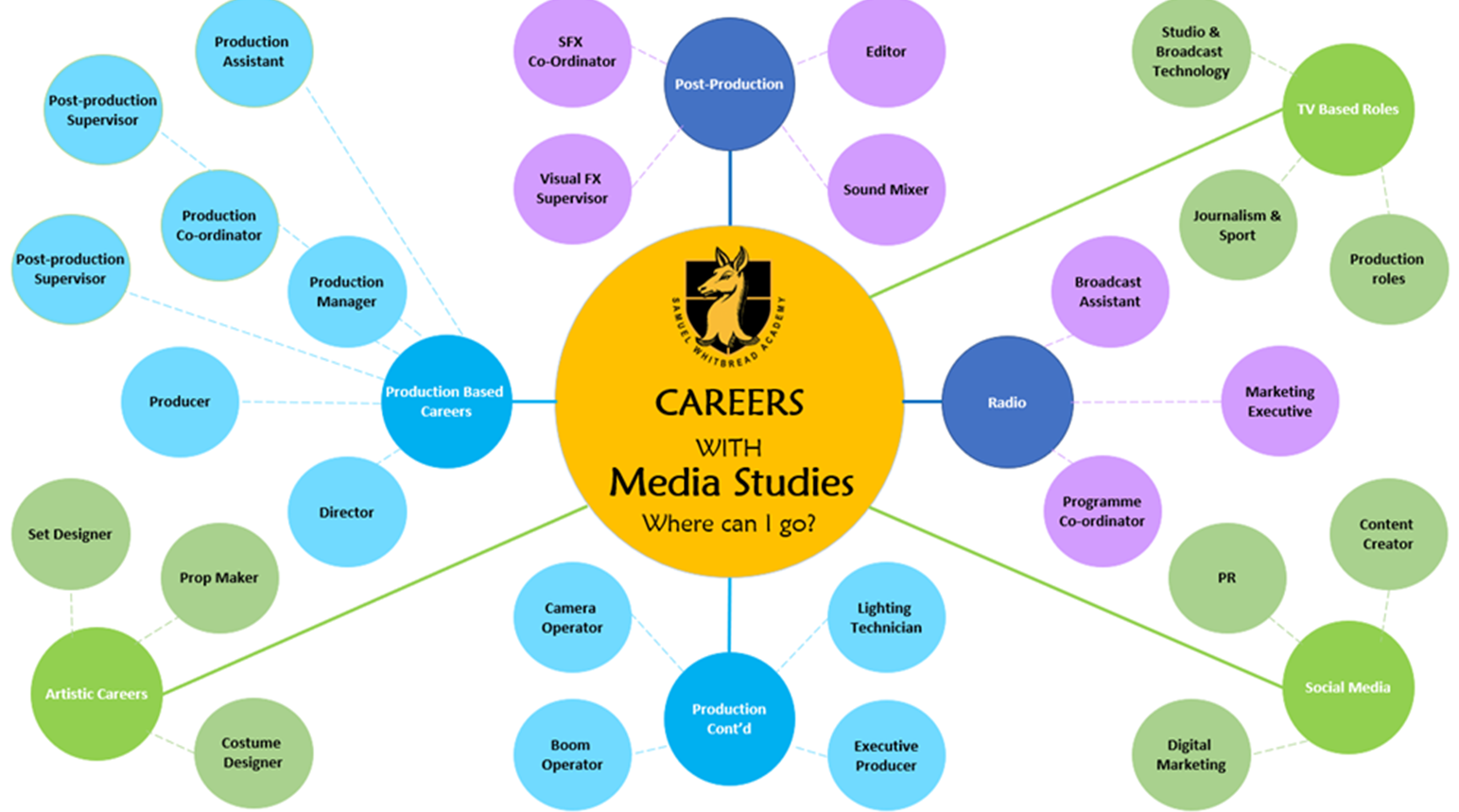 Revision Materials
As this is a new course at Samuel Whitbread Academy, revision resources are currently being developed, but there is an initial list of resources below.
Links to External Resources