History A Level

The History department at A Level is an experienced team of 3 knowledgable teachers, with specialisms in aspects of British, American and European history. The A Level course is split between teachers focussing on key aspects of the course and their specialism.


| Examination Board | Course Overview Videos | Curriculum Sequencing |
| --- | --- | --- |
| | | |
| | | |
| | | |
Marking & Feedback

Academic Enrichment & Extension Opportunities
External Speaker Visits:
Expert external speakers are provided. For example, the leading British historian and media presenter Dominic Sandbrook provided a lecture this year along with a question and answer session for our A Level History students. We have also had a lecture and questions answered by Professor Rick Halpern from the University of Toronto on US History and the use of photography.
History Tutorials:
We also provide regular small group History tutorials for students who wish to read around the subject of History, or are interested in Oxbridge or Russell Group universities. For this we use a seminar style approach, reading usually being set in advance for students to bring to the meeting for discussion. For lessons we regularly provide undergraduate level reading materials to add depth to students' understanding of the topics we cover.
History Coursework:
The History coursework completed in Year 13 requires students to access undergraduate material and understand historiography, for which we provide relevant materials at this level. We also assist students in accessing this material through modelling reading, understanding and note-taking skills in previous courses.
Future Options & Career Opportunities
History is a widely valued A-Level that is accepted by universities. Students may elect to study History university, where a range of History degrees are offered. Career opportunities include History teacher, Archaeologist, Librarian, Reporter, Political analyst, Heritage manager, Business consultant and Historian. Many employers regard History as a valuable and challenging degree.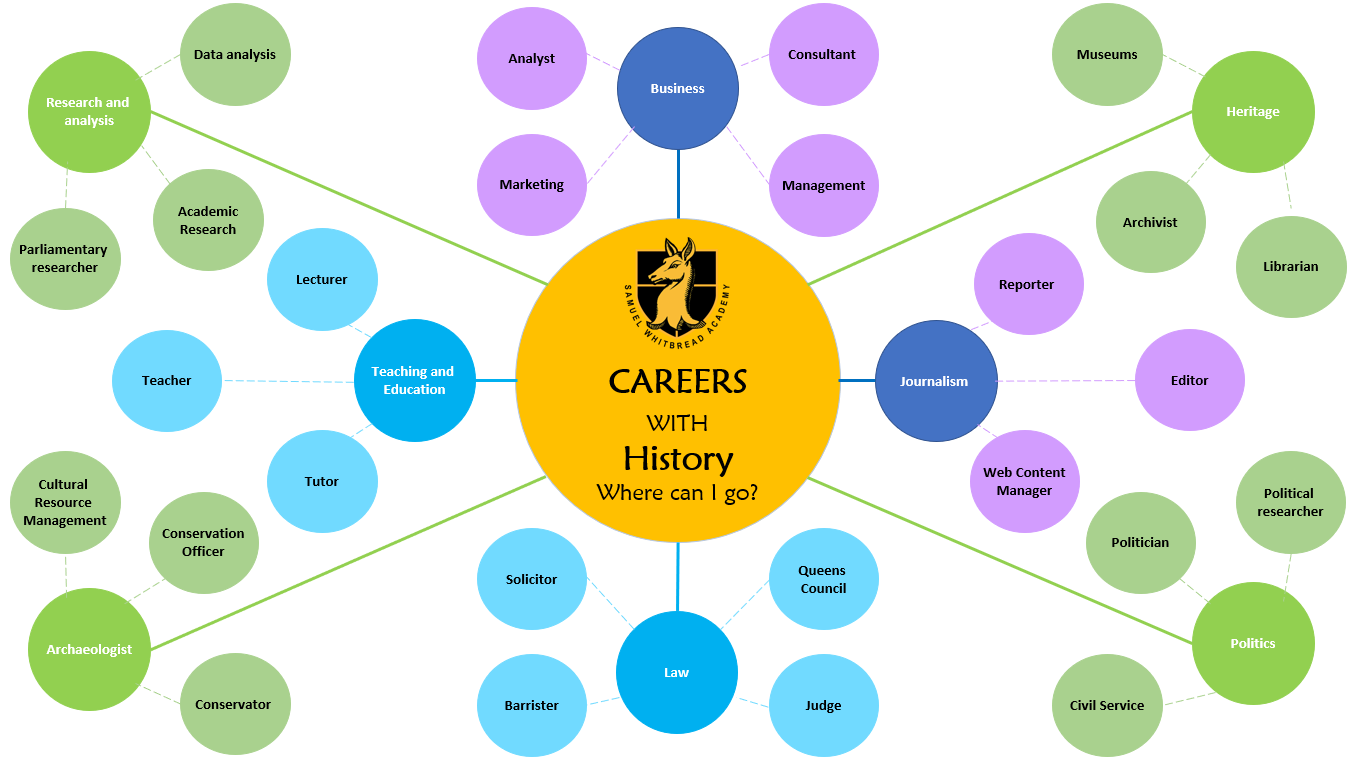 Revision Materials
Revision materials are in the Google Classroom. They include revision lists, course overviews, slides, past paper questions, and mark schemes. These also include relevant topic lists and clearly organised revision overview sheets that cover these in both a chronological and thematic way, so students are able to develop a synoptic approach to their revision. We also provide exemplar answers and histpods (recorded presentation) to revise exam technique, to clearly show how to answer the questions, and to model excellence. These resources will also include further relevant information for revision.
Link to External Resources