Dress Code
Professional Dress Code
Examples of ACCEPTABLE items of professional clothing
Trousers, dress and/or skirt with a formal jacket (jacket is not compulsory),
Smart chino or dark denim trousers.
A smart shirt/blouse and/or smart jumper may be worn.
Long or short sleeve shirts. These can be worn with a tie (a tie is not compulsory but is recommended).
V-neck sweaters, sleeveless or long sleeves may be worn to accompany a jacket and/or shirt & tie.
Smart collared polo shirt/tops
Department specific uniforms/clothing such as PE, Engineering or Performing Arts department. The school logo needs to be present on all items of clothing.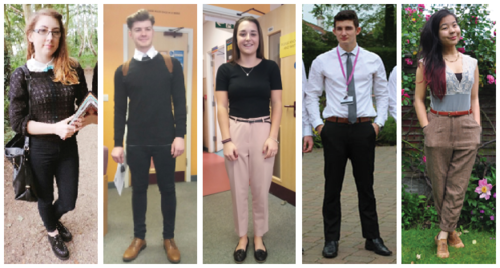 Examples of UNACCEPTABLE items of professional clothing
Ripped or bright/multi coloured jeans.
Blue jeans/denim
Tracksuits, hoodies and casual sports T-shirts. No collarless shirts.
Shorts, combat trousers, sweat shirts and ripped trousers.
Baseball caps/hats
Clothing bearing slogans.
Trainers, plimsolls, flip-flops canvas shoes, pumps (leather and canvas), sneakers.
Tops that expose the shoulders, including "cold shoulder" tops.
See through tops/shirts/blouses
Crop tops
Length of skirt needs to be appropriate for a work environment - on or just above the knee.
Walking boots/shoes and/or walking boot style shoes
The following is also part of the Sixth Form dress code policy:
Facial piercings are not allowed.
This includes piercings of the septum, lip, chin, nose and eyebrow.
Piercings of the ear are allowed but must be kept to one piercing per ear.
Hair colour needs to be a natural colour.
Lanyards must been worn at all times whilst onsite.
---
Sixth Form PE Kit
After consultation, the Year 13s decided that they would like Adidas branded clothes and as a result the following items on the link below can be purchased and worn to school. All items will have initials and the Whitbread logo on them. I can appreciate they are not cheap, however the items are of a very high quality. We want you to be smart and comfortable and proud of your sports uniform.
The PE uniform is not a requirement but an alternative to the Sixth Form business attire. This is great for PE students as you will be doing practical sessions at times and this uniform is appropriate for those sessions, as well as giving you an identity to the PE department. To buy PE uniform for the Sixth Form courses please follow the link and use teh username and password below.
https://www.mdhteamwear.co.uk/club-shops
Username – swa6form
Password – whitbread
Sadly the website above couldn't offer the female leggings and shorts that we wanted. After speaking with some of the girls in Year 13 they have chosen the following items.
They must be these items so that we kept that identity mentioned previously. To avoid any challenges from staff please only buy the above items.