Year 10 Att10tive and Year 12 Youth Ambassadors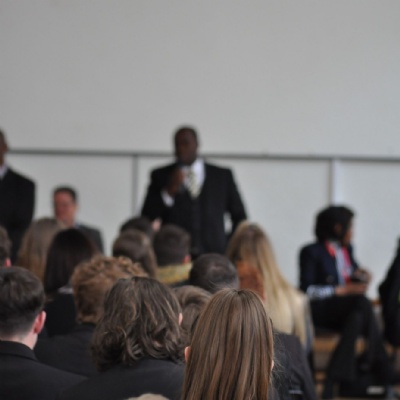 The Youth Ambassadors are a group of Year 12 students who volunteered earlier this year, with the help of Montell Neufville at Att10tive, to organise events for the lower year groups at Samuel Whitbread Academy. The event that the Youth Ambassadors were asked to organise was the Year 10 Employment Event, which aimed to introduce the younger students to people from various backgrounds and careers in the Bedfordshire area. These included: Bedfordshire Police, Orbis Medical recruitment, charitable organisations (such as Mary Seacole Housing), a solicitor who works for the Ministry of Justice, and other business owners. The employers also talked about a variety of skills that are essential for employment, which included resilience, time management, critical thinking and communication.
From the point of view of a Youth Ambassador, the day began with a short introduction from each person explaining what their company does and how it benefits people's lives. After the brief introduction, the event began with each organisation at their own table working with small groups of Year 10's to answer questions and explain more in depth about that career path and the relevance of the particular skills they were focussing on. However, during the day there were obstacles that were quickly taken care of, for example a few of the organisations couldn't attend, the Youth Ambassadors had to think quick and create a table that Year 10's were able to go to and ask any questions they had about Sixth Form as well as taking a personality quiz to help give them a rough idea as to what career path they'd like to take.
The Year 12 students showed adaptability, problem solving, and resilience in creating contingency plans should any last minute changes be required. They achieved all of these elements, and should be applauded for organising and participating in a successful event that engaged and assisted in the education of over 400 students, and in front of 12 important employers in this region! As Montell stated "The day was great for everyone and I'm pleased that the whole school gained from it… Everyone did really well'. As a result of this success some of our Youth Ambassadors will be invited to gain experience of being part of a police panel, evaluating police performance, another role that Att10tive offers the youth ambassadors that they train.