FINAL EVENT, INTERNATIONAL DEBATE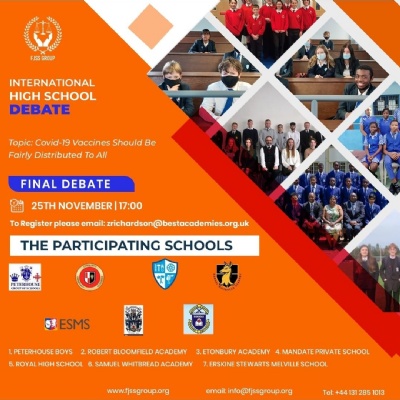 We are so proud of the SWA debate team for their incredible performance in the final round of the International Debate that was held on Thursday 25th November. Their performance was flawless, and we put up a great challenge to schools from Zimbabwe, Scotland and our fellow BEST Trust school Etonbury. All sides clearly established some excellently crafted arguments on the topic of: How fair the Covid vaccine roll out should be on a global scale. Should we be sharing more vaccines with other countries? This is a very pertinent question given recent concerns about new strains developing in countries where the vaccine is not as widely available.
It was a wonderful event, with people listening in from all the different countries involved. It was also being livestreamed on the FJSS Facebook account.
There may need to be a competition winner, which in this case was Peterhouse Boys School (Zimbabwe), but all teams were awarded for their wonderful performances throughout the debating competition. Mandate College (Nigeria), Robert Bloomfield Academy and Royal High School (Edinburgh), proved challenging competition in the early rounds for our teams that were part of the finals, Peterhouse Boys (Zimbabwe), Erskine Stewart's Melville Schools (Edinburgh), and Samuel Whitbread and Etonbury (from the BEST Trust).
All the teams involved will be participating in the next project that SWA and FJSS have lined up. We have also had interest from other Scottish schools as well as one in Ghana and another in Uganda. Watch this space as more debating competitions and events that are on the horizon for SWA Debate.