HISTORY EVENTS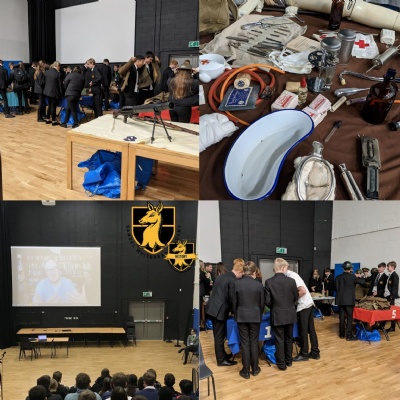 On Thursday 25th November the History department was delighted to welcome Bill Smith from GreatWarWorkshops. Bill delivered a two-hour workshop on Medicine in the British sector of the Western Front during World War One to 60 Year 10 students. The workshop was designed to enrich our students' knowledge for the GCSE Medicine in Britain course. Bill brought an incredible range of artefacts that students were able to handle and discuss. They included prosthetic limbs, surgical instruments, uniforms, and weapons including a Lewis gun! Bill discussed how medicine and surgery advanced rapidly during World War One as they needed to treat soldiers to get them back on the battlefield. This was industrial warfare and medical services had to deal with a scale of injuries from bullets, shrapnel and gas attacks, which had not been seen before. Students were informed of the persistent problems that soldiers faced from lice, trench foot and trench fever. Our students participated with enthusiasm and were praised by Bill for their interest and behaviour.
On Monday 22nd November the History department had the great pleasure of welcoming historian Dominic Sandbrook give a talk and question & answer session on the topic of Britain in the 1970s, via zoom. Dominic has published a range of well-known books on Britain from the 1950s-1980s, and has presented four television series for the BBC, as well as numerous radio broadcasts. Dominic gave his time to present an excellent talk to 140 of our Sixth Form and Year 10 students on the seventies. The topics covered included: the governments of Wilson, Callaghan and Heath, the strikes, the three-day week and the power cuts, as well as the impact of television and music. Dominic portrayed the changing culture and aspirations of people in Britain in the 1970s vividly. Our sixth-formers then had the opportunity to put a series of well prepared and insightful questions to Dominic, who really impressed our students with the depth and clarity of his answers. We are grateful to Dominic for such an enriching experience. Our students' enthusiasm deserves praise, and Dominic commented on the high quality of the questions that were asked.

The last couple of weeks have been full-on for our Year 11 and 13 students as they sat their mock examinations and IPE. The students have been working incredibly hard towards these exams, despite all the setbacks they had over the last couple of years. Good luck to the few who have exams next week, almost at the finish line. Keep up the amazing work and make sure you have a good rest over the Christmas break.

Mr M Inns, Head of History