Year 8 - 9 Open Evenings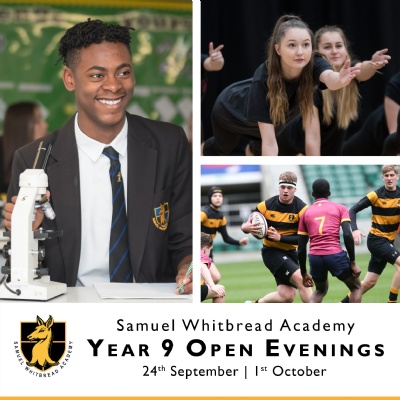 Henlow C of E Academy & Out of Catchment Area – Tuesday 24th September 2019
Robert Bloomfield Academy & Out of Catchment Area – Tuesday 1st October 2019
When you arrive at the academy for the Open Evening please come to the main reception where you will be given a Prospectus and a map. Tours around the academy will run any time between 6.00pm and 8.00pm. The first presentation will be in the main hall at 6.30pm and will be repeated at 7.00pm & 7.30pm.
During the presentation, I will give you a flavour of academy life and the opportunities that lie ahead for your son or daughter. You will also hear from our Head Boy and Head Girl, as well as students from Year 9 who will give you their perspectives on the academy.
As you are probably aware, the academy draws most of its students from Henlow and Robert Bloomfield, but we also welcome many students from out of catchment. This is an exciting time to join Samuel Whitbread Academy. In our last Ofsted inspection (October 2017) we were judged as Good with many Outstanding features and this summer we recorded some of our highest ever GCSE results.
I very much hope that you will be able to join us at our Open Evening. If you would like to see the academy at work on a normal school day, we will be organising guided tours from Wednesday 25th September through to Friday 11th October 2019. These tours will be by appointment and if you would like to visit the school then please either email swa-info@bestacademies.org.uk or phone reception on 01462 629900.
If you need help to access the upper floors of the academy then please contact us at the earliest opportunity. If you would like an audio version or written copy of our presentation then please contact us to arrange this.