Rugby School of the Year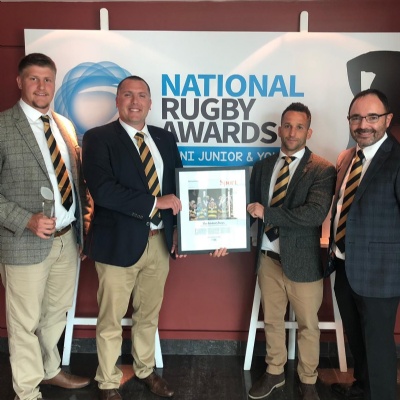 Samuel Whitbread wins National Rugby School of the Year
Samuel Whitbread Academy has added another honour to its growing list of sporting achievements in 2019 by being awarded Best Rugby School at the National Rugby Awards at Twickenham yesterday.
Whitbread were up against other high calibre nominations from across the country at the prestigious event, including Sedbergh who's side this year has been dubbed 'the best team ever to play school rugby', but were awarded the prize owing to their incredible triumphs in the National Vase, to the delight of all the coaching staff present.
With a packed room of 400 people eagerly awaiting awards from various different categories, Sky Sports presenter Alex Payne announced Whitbread as the winners and lauded over the school's progress and success as a state school amongst so many big independent schools.
Head of Rugby Edd Rhodes said: "It's unbelievable to see how far this school has come over the last few years. After winning both the U15 and U18 Natwest Vase competitions at Twickenham this year, to now win the Best Rugby School Award really highlights the recognition that the players, parents and coaching staff deserve. It has been an incredible year and I cannot wait to see what the future holds for rugby at the school."