Lockheed Martin Code Quest champions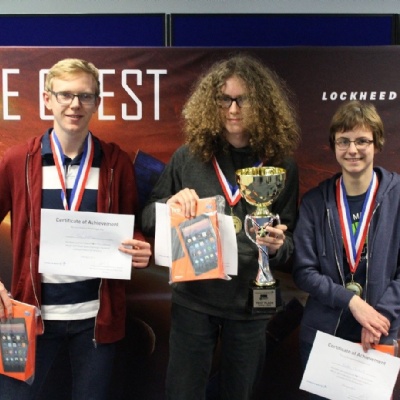 Winning Team from Samuel Whitbread Academy in Bedford are crowned as the Lockheed Martin UK, Ampthill Code Quest champions for 2019.
AMPTHILL UK, 1st May 2019 – On Saturday 27th April, global defense giant Lockheed Martin brought together more than 2,000 young students across a number of its international sites, to compete in the company's annual coding challenge. The 2.5-hour competition aimed to inspire the coders of the future and test the ability of individuals to solve a series of complex problems by working as a team.
At promptly 1100hrs (GMT) 27 teams from across the UK competed at two of Lockheed Martin's UK sites: Ampthill and Whitley. The students were supported by the company's outreach team to work through various sets of coding challenges developed by the company's IT professionals – the intense challenge created a competitive, yet fun environment.
The winning team from Samuel Whitbread Academy was followed by two teams from Harlington Upper School securing second and third place.
Peter Ruddock, Lockheed Martin UK Chief Executive said: "Congratulations to Samuel Whitbread Academy on winning the Lockheed Martin UK, Ampthill Code Quest 2019 competition.
It's really important for us to continue developing a workforce that has the necessary skills to be able to compete in a 21st century high-tech, competitive environment. Over the next 15-years, we'll need to hire thousands of new STEM professionals, so we have a vested interest in engaging with talented young people and inspiring them to consider the exciting and fulfilling careers in technology".
Mr Scullion, Head of IT and Computer Science said: "I'm really proud of all of the students who took part in the competition. It was great to see them working as teams and really keen to work out solutions, breaking problems down and thinking logically. It is a great event to give the students an opportunity to stretch their knowledge outside of the classroom - thoroughly enjoyed by all the teams we entered. Winning was the icing on the cake! Definitely we will be back next year to defend the title."
About Lockheed Martin UK
Lockheed Martin UK, headquartered in London, is the UK-based arm of Lockheed Martin Corporation, a global security and aerospace company principally engaged in the research, design, development, manufacture, integration and sustainment of advanced technology systems, products and services.
The Lockheed Martin Code Quest competition was established in 2012 to help inspire students with an interest in STEM subjects and careers.
This year's competition took place across many of Lockheed Martin's sites, including Aguadilla Puerto Rico; Ampthill, United Kingdom; Bethesda, Maryland; Dallas, Texas; Denver, Colorado; Fort Worth, Texas; Greenville, South Carolina; Huntsville, Alabama, King of Prussia, Pennsylvania, Marietta, Georgia; Moorestown, New Jersey; Orlando, Florida; Owego, New York; Palmdale, California; Stratford, Connecticut; Suffolk, Virginia; Sunnyvale, California; Washington, D.C. and Whiteley, United Kingdom.