YEAR 9 HIGHER PROJECT, VISIT TO SOUTHILL ESTATE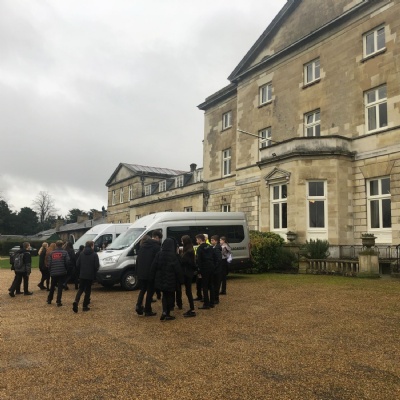 We have 26 Year 9 students who have been working on a Higher Project Qualification, this is an independent project which requires students to choose a title and research for themselves a title of their own design within the topic of Black British History.
On Tuesday this group visited the home of Samuel Whitbread I, the Southill Estate. Here they were able to learn more about two members of the family who represent an important part of local and national Black British History. Samuel Whitbread I and his son, Samuel Whitbread II played a very important role in promoting the abolitionist cause and pushing for the slave trade, and slavery to be abolished.
Their descendent, Charles Whitbread, personally took our students on a tour of the house where Samuel Whitbread I lived at the end of his life. He talked us through the rich family history that has had such a big national and local impact. This included discussion on the family's significant involvement in the abolitionist cause, the political roles and debates within the family, as well as the use of the house and grounds as a hospital in WW2 for recovering officers.
Our students and staff were able to ask questions throughout the visit. The array of questions that people came up with highlighted how much their interest was piqued on such a variety of aspects of the commentary, from points about the family, the house, to the disparities between Whig and Tory politics. This was a point of heated discussion between Samuel Whitbread I (Tory) and Samuel Whitbread II (Whig).
A highlight of the tour was being able to see the abolitionist materials in the library that would have informed both Samuel Whitbread I and II in their fight to end the slave trade and slavery. There were also the wonderful paintings of the family members by the key artists of the time that brought to life the individuals that we were learning about. They paintings not only represented the families brewing interests, but also the money that was made from concrete as well, perhaps a lesson known aspect of the Whitbread family success.
We would like to thank Charles Whitbread wholeheartedly for his friendly welcome, as well as an incredibly informative and interesting guided tour of his home, it was much appreciated by all that attended.